Gain Quick Hands and Feet for Grapplers with Ladder Drills
By John Gaglione
<![if !vml]>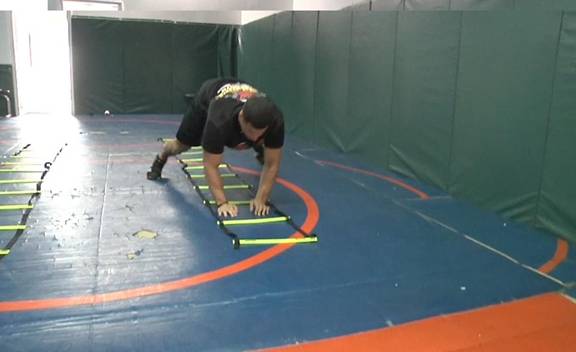 <![endif]>

In wrestling it is important to have quick feet and good reflexes. Not only is footwork important for grapplers, but it is also important to have quick reaction with the upper body especially when in hand fighting situations. This is the major difference between a good wrestler and great wrestler. If two wrestlers have equal physical qualities, but one has better reactions to familiar situations they will be victorious. The only way to train reaction for wrestling situations is by wrestling, but there are many drills you can perform in order to improve general coordination, athleticism, and overall quickness in all wrestlers.
Ladder drills are a great tool for improving general coordination, quickness, and timing for all wrestlers. The wrestlers will learn to have quick and accurate feet and hands. If you donít have a speed ladder at your facility, just put athletic tape down on the floor and put out the wrestling mat during your next conditioning or power workout. I like the ladder better than the tape because when the athlete makes a mistake, the ladder will move and give the wrestlers feedback.
Using ladder drills as part of a conditioning circuit is great for advanced athletes they need to be able to perform complicated patterns when in fatigued state. Late in a wrestling match it is extremely important to be able to execute good technique in when the athlete is tired. I like to use a combination of hand and feet drills to train for overall quickness for both the upper and lower body. The hand drills will help the wrestlers build stability in their core as well as in their shoulders as well as quickness.

Check out my favorite variations for developing agility and coordination for my wrestlers.

Basic Ladder Drills
Two In the Box in Linear

Hands

Feet
Two In the Box Latera

Hands

Feet
Advanced Ladder Drills (Hands shown

Hand Icky Shuffle

Hand Buzz Saw

For the Advanced Athlete hopping and jumping variations can also be used. These explosive variations are also fantastic for developing power and power endurance. Here are a few of my favorite advanced explosive variations for wrestlers.

Power Drills

Hand In and Out

Feet Lateral Jumps
Ladder drills are a fantastic way to develop coordination, reactive ability, and stability for both the upper and lower body. Wrestlers should start off with simple patterns such as two feet in the box and then progress to more advanced moves such as the icky shuffle drill. These drills will help improve upper body speed in hand fighting situations as well as improve the agility of the athlete so they can change directions quickly when stringing techniques together.

To take your wrestling to the next level and ensure this coming wrestling season is your best one ever go to GaglioneStrength.com and e-mail Coach Gaglione for more information on wrestling training.

Coach John Gaglione is a Sport Performance Specialist out of Long Island New York. He is a certified "Underground" Strength coach who specializes in training combat athletes. Johnís work has been featured in Elite Fitness Systems, Testosterone Nation , One Result & local wrestling site Long Island Wrestling Association. If you would like to learn more about John you can reach him at www.gaglionestrength.com or e-mail him at gaglionestrength@gmail.com.