Donate to Support
the LIWA
The Importance of a Clean Wrestling Room
Consequences of an Unclean Mat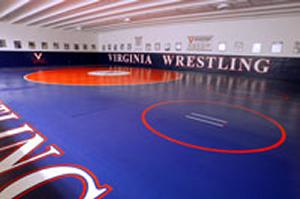 If a wrestling mat is not cleaned properly athletes may catch skin diseases. staphylococcal infections, ringworm, impetigo, and herpes simplex virus are the four most commonly seen in wrestling. One problem lies in the fact that not only can wrestlers catch skin disease from other teammates, they can also catch skin diseases from others who may use the wrestling room. For example at Lock Haven University physical education classes also use the wrestling facilities.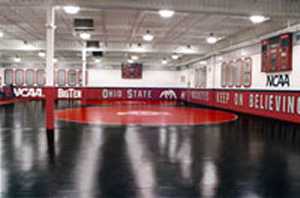 How to Clean The Mat
Mats should be cleaned twice daily with disinfectant cleaner. Wrestling mats should be cleaned two or three hours before each practice or competition. Mats can be cleaned with 1:100 household bleach and water, 70% Isoprypyl alcohol and hydrogen peroxidem (1).
How can skin diseases be prevented?
Keeping The Mat Clean
All mats and walls should be cleaned on a daily basis with a disinfectant cleaner such as a solution of 1:100 household bleach and water. This solution should be made everyday (5).

Street shoes should not be worn on a wrestling mat and wrestling shoes should not be worn off of a wrestling matt (6). This is where the physical education classes hinder the wrestling room process, PE classes often just wear whatever shoes they wear outside.
What wrestlers and coaches can do to stop the spread of skin diseases
General
Do not use others combs, brushes, hair ornaments, hats, scarves, towels, washcloths, socks or shoes.

Never walk barefoot in public places. If you must use a public shower area always wear shower shoes.

After bathing or swimming dry your feet and in between your toes thoroughly.

Do not involve yourself in any contact sports without wearing socks or shoes (3).

Expose your feet to the air when you are at home.

Change your socks and underwear frequently.

Do not wear heavy clothing in warm weather that will cause you to sweat.

Check your pets for areas of hair loss(4).

Wrestlers should shower before and after workouts with disinfectant soap.

Clothing should be washed daily including all towels (6).

Wash hands frequently (5).
Wrestling
Following each use of head gear the equipment should be wiped down with alcohol pads.

Coaches should direct skin inspections on a daily basis.

Wrestlers that have open wounds or any breaks in the skin should be dissuaded from participating until the skin is healed or the wrestler has been allowed to participate by a licensed physician. If a wrestler is cleared to play, they should have the affected area covered to avoid any cross contamination form happening (6).

If a wrestler believes they may have a skin infection the athlete must notify a coach and athletic trainers as soon as possible.

Ventilate the wrestling room with fans to lower the humidity and temperature

Neoprene sleeves and support braces must be wiped with a disinfectant after each use.

All team members should keep their finger nails short in order to avoid scratching anyone (5).
If a wrestler sees a skin lesion on his/her body, s/he needs to get it checked immediately. The wrestler should tell the coach about it, as well as seeing a physician at the first opportunity. The athletic trainer should also be made aware of the skin infection.
Information acquired from the following website:
http://www.lhup.edu/~yingram/wrestling%20room/web%20page%20project/newpage2.htm