December 2, 2022
• Matthew P. Sapolin Memorial Youth Wrestling Tournament at Islip January 15, 2023
• Matthew P. Sapolin Memorial Youth Wrestling Tournament Club Coach Group Registrartion Spreadsheet

December 1, 2022
• Section 11 D1 Individual Ranking as of 11-30-2022
• Section 11 D2 Pre-Season Individual Ranking as of 12-1-2022
• Section 11 D2 Pre-Season Team Ranking as of 12-1-2022
•

Wantagh's Jesse Vanorden got his 100th win Wednesday night



November 30, 2022
• Section 8 D1 Individual Ranking as of 11-30-2022

November 29, 2022
• Section 11 D1 Pre-Season Team Ranking as of 11-29-2022
• Garden City is looking for any JV Only Tournaments

November 27, 2022
•

When new HS results are updated the as of date at the top of the HS schedule will be updated.


• Wantagh Youth Tournament December 11, 2022 - Flyer Added

November 21, 2022
• Section 8 D1 Pre-Season Individual Ranking as of 11-21-2022
• Section 8 D1 Pre-Season Team Ranking as of 11-21-2022

November 19, 2022
•

Annual Tyler Lynde/Ken Lesser Youth Tournament at Hauppauge March 11, 2023 - Flyer to Follow


• Valley Stream North is looking for any openings (non-league matches and tournaments) within the month of December or January

November 17, 2022
• Minisink Valley in Section 9 is looking for 1 team for our Jim Wilson Duals on December 17, 2022
• Hofstra Wins Three Championships At Journeymen Collegiate Classic
• Hofstra's Sparacio, Miller Place At Princeton Open
• LIU Wrestling Tops Sacred Heart, Blake Bahna Wins Journeymen Classic Pool
• Three USMMA Mariners Reach Podiums As Wrestling Opens Season At King's Ned McGinley Invitational

November 15, 2022
• Section 11 D1 Pre-Season Individual Ranking as of 11-15-2022

November 10, 2022
• Copiague has a JV Assistant Position available and 2 Middle School Coaching positions open
• Copiague has a few openings in the Anthony Cipriano Invitational on January 21, 2023

November 9, 2022
• Valley Stream Central has one opening for the Harold Earl Dual Meet tournament on Saturday, January 14, 2023

November 8, 2022
• Walt Whitman is looking for additional teams for 28th Annual Andrew Peers Wrestling Tournament on January 21, 2023

November 7, 2022
• South Side has 1 opening in the Frank Giampaolo Cyclone Tournament on December 17, 2022. We will also be running a Female division.

November 4, 2022
• Half Hollow Hills West is looking for a JV Coach to fill an open position available for the 2022-23 season

November 2, 2022
• Long Beach Gladiator Youth Wrestling Tournament December 4, 2022
• The Kings Park - Beginner Friendly WAR Zone #3 December 18, 2022
• The Kings Park - Beginner Friendly WAR Zone #4 January 15, 2023

October 31, 2022
• Hofstra Wrestling 2022-23 Season Begins with Successful Wrestle-Offs

October 27, 2022
• Baldwin looking for a few Teams for our individual tournament being held on Saturday January 14, 2023
• Northport is looking for a tournament on January 21, 2023
• Hofstra Wrestling Announces 2022-23 Team Captains

October 26, 2022
• Port Jervis (Section IX) is in need of a team for its Dual Meet Tournament on December 10, 2022
• Natick High School, Natick MA is looking to join a Dual or Traditional Tournament on January 28, 2023

October 25, 2022
• Hampton Bays has a Varsity Assistant Coaching Position available for the 2022-23 season
• Herricks is looking for 1 more team for our Herricks Invitational on Saturday, December 3, 2022

October 21, 2022
• Selden Middle School is looking for an experienced new head coach

October 20, 2022
• Oceanside has a Varsity Assistant Coaching Position available for the 2022-23 season

October 19, 2022
• Kellenberg is looking for 1-2 more teams in its annual Ed Solosky Memorial Tournament on Saturday, January 14, 2022

October 17, 2022
• Long Island Pre-Season Tournament at Longwood - October 29, 2022 - WEIGH-IN INFO HAS CHANGED
•

Long Beach Gladiator Youth Wrestling Tournament December 4, 2022 - Flyer to Follow



October 12, 2022
• Island Trees is looking for one more team for their quad event on December 3, 2022

October 11, 2022
• Claw Club Youth Wrestling Clinic - Month to Month or 3 Month Increments - October 17, 2022 - June 7, 2023
• MacArthur HS looking for a non-league dual in early December or on January 4th
• Uniondale has an opening in their 8-Team Dual Meet Tournament on Saturday, January 14, 2023
•

Wantagh Youth Tournament December 11, 2022 - Flyer to Follow



October 6, 2022
• Oyster Bay has a Wrestling Coaching Position available for the 2022-23 season

October 5, 2022
• Port Washington (Sec 8) is looking for a non-league dual meet for the 2022-2023 season
• Port Washington is hosting an Individual JV tournament on Thursday, December 29, 2022
• Port Washington (Sec 8) has an opening in their Bob Busby Classic Dual Meet Tournament on Monday, January 16, 2023 (MLK Jr. Day)

October 3, 2022
• Milton L. Olive Middle School in Wyandanch is starting their wrestling program back up and they need a MS Coach
• One day fundraiser clinic for Josh Encarnacion in his battle against cancer this Wednesday 10/5 9:00AM at Savage Wrestling facility
• Shoreham-Wading River Hosts Eastport-South Manor on 12/9 for Tim Thrane Night to honor Suffolk County Police Officer Tim Thrane who wrestled for both schools
• West Islip is looking for 2 teams for the Edie Mellino Memorial Breast Cancer Awareness Tournament on December 28, 2022 - JV on December 27
• West Islip is looking for 2 teams for the West Islip Duals on January 7, 2023

September 29, 2022
• Sayville has 2-3 openings for the Gray-Fitzgerald Holiday Tournament on Saturday December 3, 2022

September 22, 2022
• Amityville has openings for 1-2 teams in its annual Lonnie Kittle Tournament being held on Saturday December 3, 2022

September 21, 2022
• Edgemont HS in Westchester County, NY is seeking a Head Varsity/JV Wrestling Coach for the 2022-2023 season
• Amityville HS is looking for a Head JV Coach for the 2022-2023 season
• Riverhead is looking for a JV wrestling coach for the 2022-23 season
• Herricks (Section 8) has two spots open in our Highlander Tournament on Saturday, January 21, 2023

September 15, 2022
• Lions Wrestling Club Pre-Season Wrestling Tournament at Msgr. Farrell HS - October 9, 2022

September 14, 2022
• Long Island Pre-Season Tournament at Longwood - October 29, 2022
• Bayport-Blue Point is looking for 2 Non-League Duals in December

September 13, 2022
• Bayport-Blue Point is looking for an individual tournament on 12/10/2022 or 1/14/2023
• Glen Cove is looking for 1-2 teams for the Charles McCullough Individual Tournament on 12/28/2022
• If you are interested in becomimg a wrestling official in Nassau County new candidate classes are starting soon. FIRST CLASS - WEDNESDAY SEPTEMBER 14TH - 7-8:30PM at W.T. CLARKE HS. Anyone interested can call John Hamilton at 516 578-2025 for more information.

September 11, 2022
• The Wolverine Youth Wrestling Warm Up - December 11, 2022

September 6, 2022
• Wantagh Warriors Fall Wrestling Program - September 7 - November 9, 2022

September 4, 2022
• Quiet Storm East Fall Clinic at St. Anthony's - September 6 - November 3, 2022

August 26, 2022
• Johnson & Wales University Wrestling Prospect Day - Friday September 16, 2022 - Click here to register
• Super 32 Early Entry Tournament at Johnson & Wales University - September 16-18, 2022 - Click here to register

August 25, 2022
• Alfred State College to Add Three New Sports; Women's Wrestling; Men's and Women's Lacrosse
• Alfred State College Job Posting: Head Women's Wrestling Coach
• Due to current students going off to college, former Endiboro Division 1 Champion, Gregor Gillespie, has openings for private lessons.

August 9, 2022
• 2022 National Wrestling HOF Downstate Chapter Awards and Induction Ceremony October 1, 2022

August 1, 2022
• Heavy Weight War Zone At Dynamic (Hauppauge, NY)

July 25, 2022
• Ken Lesser Memorial Summer Heat Tournament HS Division - July 24, 2022
• Ken Lesser Memorial Summer Heat Tournament HS Division Brackets - July 24, 2022
• Ken Lesser Memorial Summer Heat Tournament Open Division - July 24, 2022
• Ken Lesser Memorial Summer Heat Tournament Open Division Brackets - July 24, 2022

July 3, 2022
• Hofstra Wrestling Ken Lesser Memorial Summer HeatClinic & Folkstyle Tournament - July 24, 2022 (Entry Fee Discount Cutoff July 10, 2022)

June 29, 2022
• Quiet Storm Camp at St. Anthony's - July 25-28, 2022

June 24, 2022
•

On line registration for the Sachem Wrestling Camp closes at 6pm, Sunday, June 26. There will be registration at the door on Monday, June 27th. (8:15-8:45am).



June 19, 2022
• Oceanside has two openings in their Dual Meet Tournament being held on Friday December 30, 2022
•

Savage Wrestling Academy Camps


• TECHNIQUE CAMP: June 25-26
• TOUGH ON TOP: July 6-8
• ROCK BOTTOM: July 25-27
• T3CHNIQUE CAMP: August 15-17

June 8, 2022
• Mineola is looking for 3 more teams for their 6-Team Dual Meet Tournament on Saturday, January 14, 2023

June 4, 2022
•

Dynamic Wrestling Camps


• Summer Wrestling Camp At Dynamic - June 27 - July 1
• Beginner Wrestling Camp At Dynamic Ages 1st-8th Graders - July 11-15
• Wrestling Camp For All Ages And Experience At Dynamic - July 25-29
• Advanced Wrestling Camp At Dynamic - August 15-19

June 1, 2022
• WAR Zone @ Dynamic #17 (Hauppauge, NY) July 17, 2022
• Wantagh Warriors Wrestling Club - June 8 - August 31, 2022




Lengendary HOF Photographer Pete Venier Retiring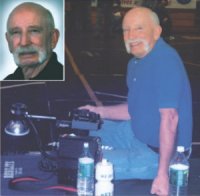 On Wednesday, December 21st, Connetquot will be honoring Pete Venier for his lengthy, amateur photography career of over 40 years. Pete is a member of the National Wrestling Hall of Fame, and in addition to his photography accolades, he was also a Long Island Wrestling Champion at Wantagh HS in 1956 and served as a volunteer assistant coach at Connetquot HS. Please help us to show Pete our appreciation for his many years of dedication to the wrestling community.
Wednesday, December 21st, 6:00 PM
Connetquot vs Ward Melville 7:00
HS Schedule
When you see a ? in the list of teams, it means the coach has been asked who is in their tournament and hasn't responded.
Events will remain listed here until individual tournament results are sent to me or dual results are entered in Trackwrestling and sent.

Click Here to See Reported Results - Updated as of 12/1/22

Day

Date

Time

Away Team / Home Team

Fri

12/2

5:00PM

University High WV at St. Anthony's

Sat

12/3/22

8:30AM

MacArthur Tournament (Salk MS)
(Chaminade, Division, MacArthur, Mepham, New Rochelle, Suffern, Syosset)

9:00AM

Battle at the Beach at Long Beach
(Calhoun, Clarke, Clarkstown South, Eagle Academy, Hewlett, Kellenberg, Lawrence, Long Beach, Lynbrook, Massapequa, Oceanside, South Side/East Rockaway, Wantagh)

9:00AM

Daniel Fuentes Dawg Pound Duals
(Hicksville, Island Trees, Jericho, Uniondale)

9:00AM

Hank Parris Tournament at Plainedge
(Baldwin, Bethpage, Carle Place, Farmingdale, Freeport, Great Neck South, Mineola, Oyster Bay, Plainedge, Plainview JFK, Port Washington)

9:00AM

Manhasset Invitational
(Cold Spring Harbor, Garden City, Grand Street Campus, Great Neck North, Holy Trinity, Manhasset, North Shore, Poly Prep, Roslyn, Seaford, Uniondale, Wheatley)

9:30AM

Bellmore JFK Duals
(Bellmore JFK, Mineola, West Babylon, Westbury)

10:30AM

Herricks Invitational
(Hauppauge, Hempstead, Herricks, Roosevelt, Sewanhaka West, VS Central, White Plains)

9:00AM

Andrew Peers Memorial Tournament at Walt Whitman
(Commack, Rocky Point, Sachem East, Sachem North, Walt Whitman, ??)

9:00AM

Gray/Fitzgerald Holiday Tournament at Sayville
(Brentwood, Connetquot, East Islip, East Meadow, Locust Valley, Longwood B, Sayville, Smithtown East)

9:00AM

Louis D. Giani Invitational
(Huntington, Kings Park, Massapequa, Port Jefferson, Roslyn, St. Anthony's)

9:00AM

Northport Duals
(Bellport, Commack, Comsewogue, Miller Place, Mt. Sinai, Northport)

9:00AM

Takedown Autism Duals at William Floyd
(Bay Shore, Glen Cove, Islip, Smithtown West, William Floyd)

9:00AM

Sprig Gardner Tournament at East Hampton
(Bayport-Blue Point, East Hampton, Hampton Bays, Southampton, Ward Melville, Westhampton Beach)

9:00AM

Lance Golubinski Memorial Duals at Goshen
(Goshen, Kingston, Longwood, Nanuet, Roy C. Ketcham, Saugerties, Tappan Zee, Warwick Valley)

9:00AM

Lonnie Kittle / Norm Masiel Tournament at Amityville
(Amityville, Harborfields, Newfield, ???)

9:00AM

Queen of the Mat at Cop iague
(Bay Shore ?, Copiague, Newfield, Riverhead?, Rocky Point, ???)

9:00AM
St. Anthony's/Spire Inst. at Wyoming Seminary
Unreported Results

| | | | |
| --- | --- | --- | --- |
| Day | Date | Time | Away Team / Home Team |
| Wed | 11/30/22 | 5:00PM | MacArthur at Division |
| Thur | 12/1/22 | 5:00PM | Walt Whitman at Chaminade |
| | | | |
| | | | |
| | | | |
HS Alumni/Senior Days/Nights
| | |
| --- | --- |
| Long Beach Wrestling Alumni Day | Saturday 12/3 6:00PM following the Battle at the Beach |
| Wantagh Wrestling Alumni Day | Saturday 12/10 2:30PM at the David C. Bloom Memorial Duals |
| Bellmore JFK Wrestling Alumni Day | Saturday 12/17 12 Noon Bellmore JFK vs Bethpage |
| Connetquot Wrestling Alumni Night and Pete Venier Tribute | Wednesday 12/21 6:00PM Ward Melville vs Connetquot |
| East Meadow Wrestling Alumni Night | Saturday 12/28 TBD East Meadow Holiday Invitational |
| Syosset Wrestling Alumni Night | Friday 1/6 6:00PM Syosset vs Uniondale |
| Calhoun Wrestling Alumni Day | Saturday 1/7 12 Noon at the Bob Bury Duals |
| Jericho Wrestling Alumni Night | Friday 1/13 6:00PM Jericho vs Wheatley |
WANTED
Looking to collect any old Section 8 County Wrestling Tournament filled in brackets. If you have been looking to clean out your attic or garage and don't know what to do with your old programs here is the answer. Mail them to Steve Meehan 117 Dale Dr, Oakdale NY 11769 or drop them off @ 117 Dale Dr, Oakdale NY 11769 or give me a call and I'll come pick them up if you have more than a few.
Mission Statement
The Long Island Wrestling Association is a voluntary, not-for-profit organization dedicated to fostering, promoting and encouraging the sport of amateur wrestling on Long Island as a means of building character, physical health and well-being, sportsmanship, self-confidence, self-esteem, and positive attitudes about dedication, persistence, intensity and hard work among the younger generation in order to fit them more adequately for their future role in society.
The Purposes of the Long Island Wrestling Association, Inc.:
To assist young people to compete in the sport of amateur wrestling by sponsoring tournaments and competitions for wrestlers and clinics for wrestlers and coaches.
To assist and facilitate the creation, development and enhancement of youth wrestling programs.
To assist and facilitate the dissemination of information about wrestling events and activities to wrestlers, coaches, parents and fans.
To assist and facilitate the creation of a travel club to allow wrestlers to attend wrestling camps, clinics, competitions and tournaments in other geographic areas.
To assist wrestlers in obtaining USA Wrestling membership cards to allow them to participate in USA Wrestling sponsored events.
To assist and facilitate the creation and development of work programs, summer and part-time internships with various Long Island and New York City corporate sponsors.
To assist and facilitate the creation and development of a foreign student/wrestler exchange program.
To encourage parents and fans to volunteer their time to assist in the development of youth wrestling programs.
To assist and facilitate the dissemination of information to the general public about the sport of wrestling.
To enhance and support media coverage of wrestling events.
To assist Long Island wrestlers in attending the Olympic training camp and in competing on a national and international level.
To offer membership to the general public in the Long Island Wrestling Association, Inc. and to collect membership dues and other contributions from such membership.
To solicit and collect contributions from individuals, groups, business and social organizations, corporations, foundations and governmental entities in order to finance the activities of the corporation.
LIU Wrestling at Smithtown East
LIU vs Citadel and Smithtown West vs Smithtown East
Side by Side at 6PM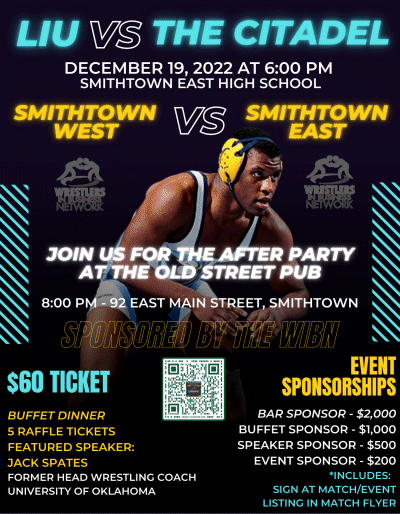 The Wrestlers In Business Network (WIBN) is proud to present a seasonal kick off event that includes the battle of the Bulls alongside two NCAA Division 1 teams, Right in your backyard! Smithtown East High School will host both matches at 6 pm. Followed by a social located at Old Street Cafe on Main Street in Smithtown Village at 8pm.

Please join us in getting to know the wrestlers following the match as well as help support the program. When you come to know the quality of young man present on the team you will find yourself rooting for the Sharks with a new passion. Become a part of the school of Sharks!

Headlining the event as the guest speaker, Smithtown native and former Head Coach of the Oklahoma Sooners, Jack Spates. There will be some wonderful raffle prizes and a 50/50.

Click on the image above or the link below to register. Anyone that preregisters before November 5th will receive 2 additional raffle tickets. Please see the invitation for Sponsorship opportunities. Your name and corporation will be listed via signage at the social and on the match flyer.


2023 College Wrestling Home Schedule
Hofstra Full Schedule
LIU Full Schedule
Kings Point Full Schedule
Nassau CC Full Schedule
| Date | Team | Time | Location |
| --- | --- | --- | --- |
| 12/19/2022 | LIU vs The Citadel | 6:00PM | Smithtown East HS, St. James |
| 12/22/2022 | Hofstra vs American | 6:00PM | David S. Mack Phys Ed Center, Hempstead |
| 1/14/2023 | LIU vs Clarion | 1:00PM | Pratt Rec Center, Brookville |
| 1/14/2023 | LIU vs VMI | 3:00PM | Pratt Rec Center, Brookville |
| 1/14/2023 | Mariner Duals at USMMA with (Rhode Island & Castleton) | 5:00PM | Edwin J. O'Hara Hall, Kings Point |
| 1/21/2023 | LIU vs Franklin and Marshall | Noon | Pratt Rec Center, Brookville |
| 1/21/2023 | Hofstra vs Franklin and Marshall | 4:00PM | David S. Mack Phys Ed Center, Hempstead |
| 2/3/2023 | Hofstra vs George Mason | 6:00PM | David S. Mack Phys Ed Center, Hempstead |
| 2/4/2023 | LIU vs George Mason | Noon | Pratt Rec Center, Brookville |
| 2/4/2023 | LIU vs Drexel | 4:00PM | Pratt Rec Center, Brookville |
| 2/5/2023 | Hofstra vs Drexel | 1:00PM | David S. Mack Phys Ed Center, Hempstead |
| 2/18/2023 | Hofstra vs California Baptist | 1:00PM | David S. Mack Phys Ed Center, Hempstead |
| 3/4-5/2023 | EIWA Conference Championship | | UPenn Palestra, Philadelphia, PA |
| 3/16-18/2023 | NCAA DI Championships | | Tulsa, OK |