Blue Devils Sweep Port Jervis Tournament with 10 Champions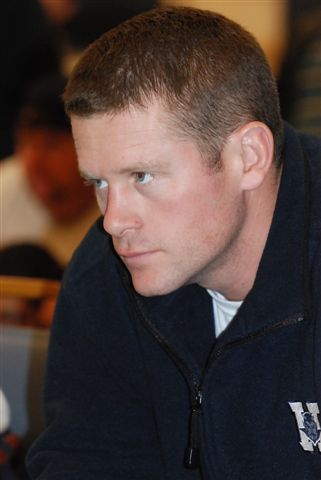 Team scores weren't kept at this year's Tri-State Holiday Tournament, but if they had been, the Huntington wrestling team would have buried all of its opponents behind an avalanche of 10 champions. It was an impressive showing for a squad containing a mix of accomplished veterans and first year varsity wrestlers.
Huntington has been coming to this tournament for the past decade and has enjoyed many special days here, but this year's performance set a new standard of dominance that won't be forgotten soon. "The kids really looked good," assistant coach Travis T. Smith said. "They just fed off of each other's success."
Opponents from host Port Jervis and Roundout Valley, Eldred, Pine Bush and East Ramapo fell one after the other to the Blue Devils. Damon McQueen's stampede through the 96 lb. weight class was indicative of just how one-sided the Blue Devils made the tournament. McQueen pinned all three of his opponents in the first period, including falls in 22 and 58 seconds.
Nigel McNeil had a tougher time en route to the 103 lb. crown with a first period pin and a 4-1 decision, but he still showed why he is one of Suffolk's best on the mat this winter. Teammate Jose Vasquez vanquished three foes, with a pin and a pair of technical falls to capture the 112 lb. title.
Francisco Pereira was untouchable at 119 lbs. with pins in 0:54, 3:52 and 0:47. Maurice Loadholt was a surprise winner at 125 lbs. as he nipped Rob Rogers of Port Jervis, 9-8. His two other matches were lopsided, with a 21-5 technical fall and a 30 second pin.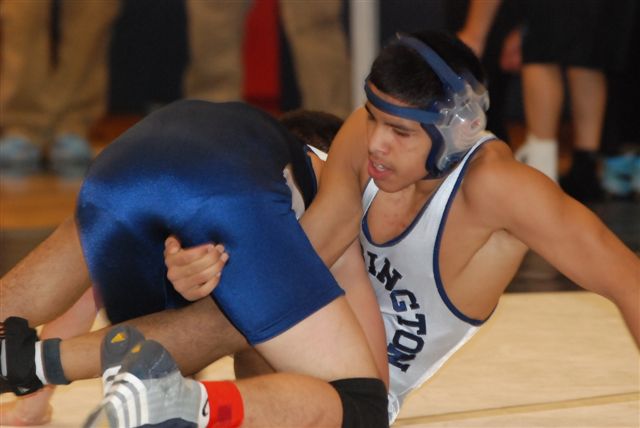 Omar Santiago won five matches on his way to the 130 lb. championship. Among Santiago's victories was a pin, impressive 14-1 and 15-1 decisions and a 17-0 technical fall. Sam Kalodukas also won five matches in taking the 135 lb. crown. The junior earned two pins and 6-0, 10-0 and 1-0 decisions.
Huntington's eighth straight title came at 140 lbs. when freshman Lou Puca pinned two opponents and earned a technical fall. Anthony Lupi pinned all five of his foes to win the 160 lb. championship and Dashaun Thomas picked up pins in 0:15 and 0:46 and edged runner-up J.D. Zitone of Port Jervis, 4-3 to win the 285 lb. crown.
The Blue Devils have been coming to Port Jervis for this tournament since 1997. "It gives us good competition against many different teams," Smith said. "Most of our guys got a lot of matches here and that's important. That's how they get better."
Blue Devil Notes: Ryan Fox (145), Chris Sandoval (171) finished second in their respective weight class and Morris Romero (189) and Anthony Priolo (215) were both third.