Blue Devils Pass First Test with Flying Colors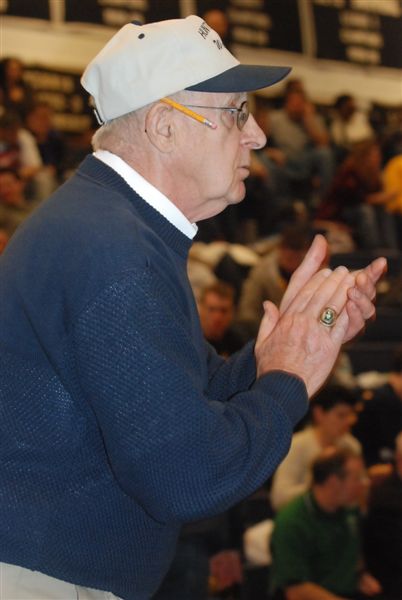 Lou Giani never knows exactly what to expect heading into the first competition of the season, so the coach had to be pleased with the performance of his Blue Devil wrestling team, which bested the nine-team field at the 38th annual Huntington wrestling tournament last Saturday.
Six Blue Devils captured weight class championships in the all-day affair which saw Huntington easily win the team title with 275 points, far ahead of runner-up Massapequa.
Damon McQueen (96 lbs.), Nigel McNeil (103), Jose Vasquez (112), Francisco Pereira (119), Anthony Lupi (160) and Dashaun Thomas (285) all took first place, much to the delight of the hometown crowd.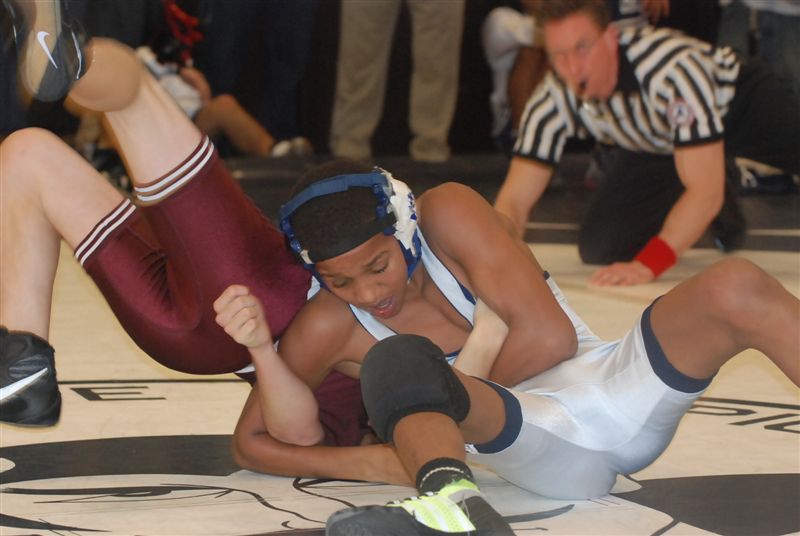 McQueen, a talented sophomore who went 13-5 last winter, was impressive, winning all four of his matches, including two pins and a pair of superior decisions and a 14-1 verdict in the finals. "Damon had a very strong tournament," assistant coach Travis T. Smith said.
McNeil, a promising freshman who was 17-7 on the varsity last year, pinned his way through last weekend's competition, with falls in 4:03, 1:33 and 5:24. "If Nigel keeps working hard he is going to have a fantastic season," Smith said.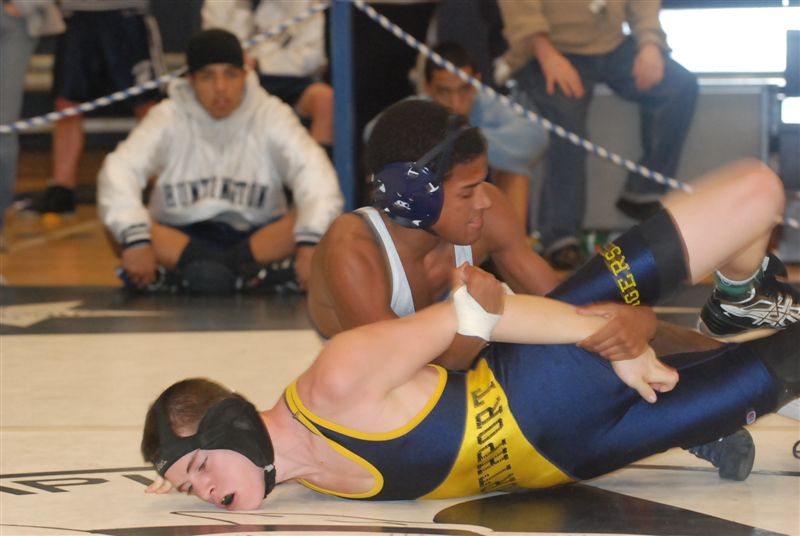 Vasquez, who finished second in Suffolk and third in the state en route to setting a new school record with 39 wins as a junior, was taken down three times in the finals, but used some slick mat wrestling to grab a hard fought 10-6 decision and prevent a huge upset.
Pereira, who entered his senior season in eleventh place on the all-time Huntington wins list, moved into a tie for eighth with 107 after picking up three first period pins and an 11-0 decision in the finals. "Francisco was super out there," Giani said. "He's really starting to push himself."
Huntington gained its fifth champion when Lupi defeated teammate Jayson Santiago, 4-0 in the finals. For Lupi, who had a large vocal group of supporter cheering his every move, it was his first varsity tournament title. Thomas, who was invincible at super-heavyweight, completed the impressive Blue Devil showing with 11-2 and 6-2 decisions in the quarter and semi-final rounds, respectively and a 1:59 pin in the championship bout.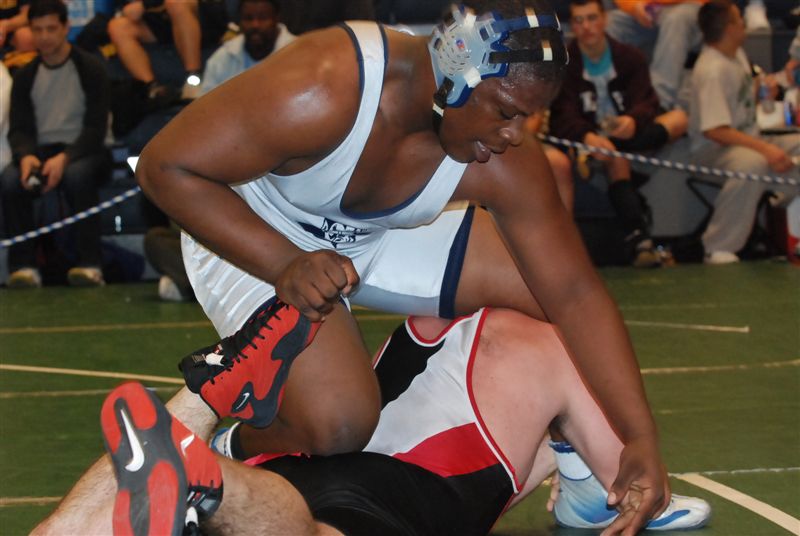 Omar Santiago (125) lost a heartbreaking 7-6 decision in the finals, despite leading most of the match and had to settle for second place. Maurice Loadholt (4th-119), Marco Lagone (3rd-130) Guillermo Dominiguez (5th-135), Louis Puca (4th-145), Chris Sandoval (3rd-171), Morris Romero (4th-189) and Anthony Priolo (3rd-215) also placed in the tournament.
The Blue Devils travel to Port Jervis for a tournament this Saturday. "We are looking to improve every week," Giani said. "Everyone on the team has something to work on."
Final team standings: 1. Huntington (275) 2. Massapequa (182.5) 3. Port Jervis (174.5) 4. Central Islip (113.5) 5. East Islip (113) 6. Northport (106) 7. Grand Street Campus (104) 8. Kings Park (102) 9. North Babylon (86).